Humans will be able to get to Mars someday. It's just a matter of which space station will figure out how to get to the Red Planet first and find settlement there.
If by any case it would be the National Aeronautics and Space Administration, at least they have planned way ahead on where their astronauts are going to live.
After a day of brainstorming at Langley's Engineering Design Studio, engineers, designers and architects from the industry and academe have come up with a conceptual design which looks like an inflatable igloo for Mars astronauts to work in. They are domes covered in ice, which protects its inhabitants from extreme temperatures and high-energy radiation.
Senior systems engineer Kevin Vipavetz, from NASA's Langley Research Centre in Virginia, says, "After a day dedicated to identifying needs, goals, and constraints we rapidly assessed many crazy, out of the box ideas and finally converged on the current Ice Home design, which provides a sound engineering solution."
Officially called as the Mars Ice Home, the concept is an inflatable device in the shape of a torus that is protected with a thick sheet of ice when inflated fully.
The team tells that other than being a safe space, it could easily be transported and deployed – it is lightweight and made with simple robotics.
Mars Ice Home is filled with water before the crew arrives, which will take 400 Earth days given the current investigated rate of amount of water that can be extracted from the Red Planet's surface. It could be faster at higher extraction rates.
"It incorporates materials extracted from Mars, and because water in the Ice Home could potentially be converted to rocket fuel for the Mars Ascent Vehicle, the structure itself doubles as a storage tank that can be refilled for the next crew," the team explains.
The Martian environment is harsh with the high-energy radiation such as cosmic rays penetrating its atmosphere. The shelter concept provides the protection from a possible damage in human cells, which could cause cancer and acute radiation sickness.
All thanks to the think ice atop the dome which is rich in hydrogen, acting as a shield against these rays. The astronauts inside is also provided daylight with that translucent material.
Here is an illustration of the concept: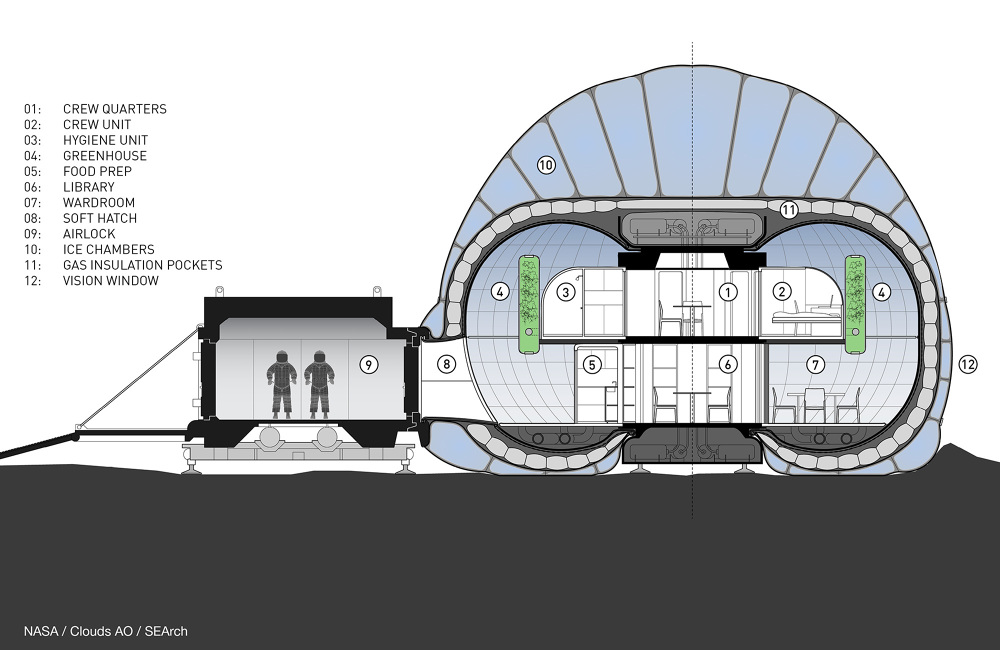 Researcher Sheila Ann Thibeault from the Langley Research Center explains that the materials making up the Ice Home could ideally withstand many years of being exposed to ultraviolet radiation, charged-particle radiation, and possibly some atomic oxygen, perchlorates, as well as dust storms. She then points out that the Martian environment could not be "as fierce as in the movie The Martian".
The team reveals that the Ice Home might just be temporary, and instead looks at underground structures as one of the best ways for humans to survive on Mars.
But then that's too complicated and expensive. It is possible, however, that once the astronauts are there living inside the inflatable habitat, they could devise ways how to drill and dig on the Martian surface and create underground shelters. The challenge will have to be getting the heavy robotic equipment on Mars.
Kevin Kempton, one of the team members, believes that the Ice Home is something to look forward to when the astronauts arrive.
"After months of travel in space, when you first arrive at Mars and your new home is ready for you to move in, it will be a great day," he says.
Source: NASA