Surviving daily life without a sense of sight is difficult. Just imagine doing your activities with your eyes closed, and you will experience what the blind deals with everyday. For Miikka Terho, a financial consultant from Finland with an eye disease causing him to lose the ability to see, it's nearly impossible to have his vision back after more than a decade, until he met with biomedical technology. Bionic implants is here finally here.
In 2010, he was given by doctors in Germany the chance to see along with two other patients. Terho temporarily restored his sight through artificial light sensors and microchips placed on the retina at the back of the eyes.
What this feat tells us is the immense power of biomedical engineering in transforming the lives of people. There have been worldwide efforts to link our body with technology, aimed at improving the patients' quality of live and even saving their lives. And it's not only the eyes, but other parts of the body from head to toe.
Listed below are the accomplishments of biomedical engineering through the years.
Brain

Source: Asian Scientist
Brain is a daring organ to work with. But Dr. Theodore Berger from the University of Southern California seems to be not bothered by its complexity, who is developing an implantable brain microchip that restores memory functions. It was proven to work with rats' brains, and he is looking at humans to replicate the procedure.
Ears

Source: ABC
One of the earliest bionic body parts is the ear. It is through cochlear implants that allow patients to hear again, by turning sounds into electronic pulses transmitted to the brain. At noisy environments, however, it is difficult with this device, but La Trobe University in Australia studies a new way for the ear to transmit information to the brain.
Heart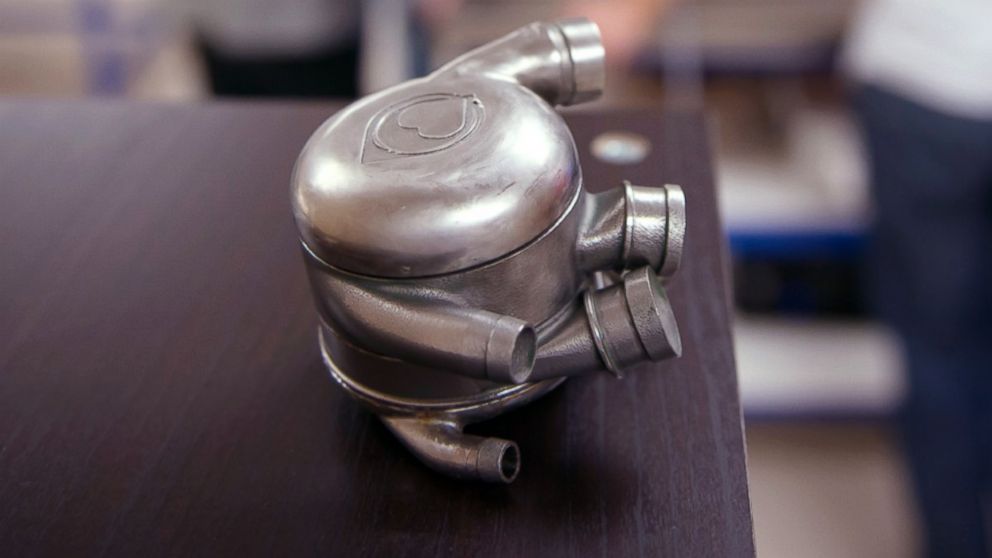 Source: BiVacor
When one has a complicated heart problem, he or she usually resorts to artificial heart to help in pumping blood. This temporary solution has been made permanent by doctors in Italy, who performed the first artificial heart implant on a 15-year-old boy. A France company even developed a prototype that will replace the organ, with the use of hydraulic pumps to push blood around the body.
Arm

Source: Wired
There have been several prosthetic arms given to patients, and one recipient is Patrick Kane, a 13-year-old from London who lost his arm to meningitis when he was only 9 months old. He was implanted with a bionic arm called iLimb Pulse by Livingston-based firm Touch Bionics, and can now open bottles with both hands, holds his fork, and tie his shoelaces. The system utilizes two electrodes that send tiny pulses of electricity from the nerves beneath the electrodes. He was one of the first recipients to have that kind of arm.
Muscles

Source: Tested
Synthetic muscles are a viable option for people who suffer from injuries or accidents which lost them lots of muscles. They use synthetic polymer gels, which expand and contrast as a response to small electric currents. But Dr. Richard Baker from the University of St. Andrews hopes to use polymer gels for artificial muscles, but to respond according to the kind of chemical signal in the body. Researchers have a different take with artificial muscles though – they produced a group of muscle which is more than 100 times more powerful than the natural muscle, through an elastic wire system.
Tendons

Source: IAC Publishing Labs
Broken tendons? Researchers from Manchester University have got you covered. They have developed artificial tendons made of fibers of plastic material, which behave just like the natural tissue. This implant allows the growth of the tendons, and breaks itself down once that happens.
Touch

Source: The Times
The ability to feel is designed mostly for robots, so they could sense the warmth and sensuality of the sense of touch. But Italian scientists are working on synthetic skin that gives feedback to patient's nerve cells.
Bionic implants will surely revolutionize biomedical engineering.
Bionic implants in Philippines, Bionic implants in China, Bionic implants in India, Bionic implants in Indonesia, Bionic implants in Singapore, Bionic implants in Malaysia,