For high school students who enjoy their general chemistry subjects way too much, establishing a fine line between chemistry and chemical engineering will help a lot in influencing a major career decision in the future. The two may be confused with each other, as this is one of the classic confusion between science and engineering.
In essence, the two can be identified according its history and fields of study: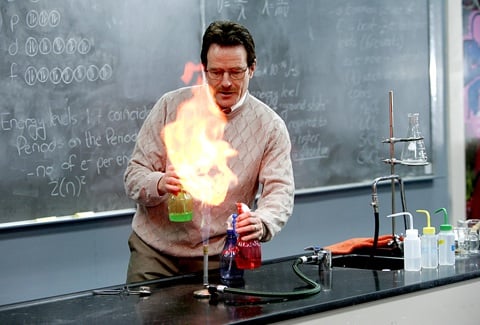 Source: Breaking Bad
History
The science of chemicals is a relatively old profession, with records dating to ancient civilizations which prove the practical knowledge of chemistry involved in metallurgy, pottery and dyeing. Its study only flourished in the 1600s with chemists like Robert Boyle who was formulating the Boyle's Law then.
Meanwhile, it was only during the 1800s that chemical engineering emerged with the term coined by George E Davis. The engineering of chemicals gained industrial importance which led the Institute of Chemical Engineers to be founded in 1922, after the World War I.
Study
Chemists focus on the background of the chemical science which is composed of organic, inorganic, analytical, physical, and bio-chemistry. They tend to develop novel materials and processes, analyzing substances, measuring the physical properties of substances and testing theories.
On the other hand, chemical engineers have a multi-disciplinary in approach, since the field involves maths and physics to be able to understand heat transfer, fluid dynamics, and equipment design, among others. From this, chemical engineers turn new ideas and discoveries into useful, attainable products by falling into the design, manufacture and operation of plants and machinery, and also develop new materials and substances.