Chemical Engineering
Chemical Engineering is a difficult major to begin with, however, there are a few courses that make the engineering major even worse.
Well, here are a few of the subjects, that me and some of my friends had the toughest time with.
Principles of Chemical Engineering I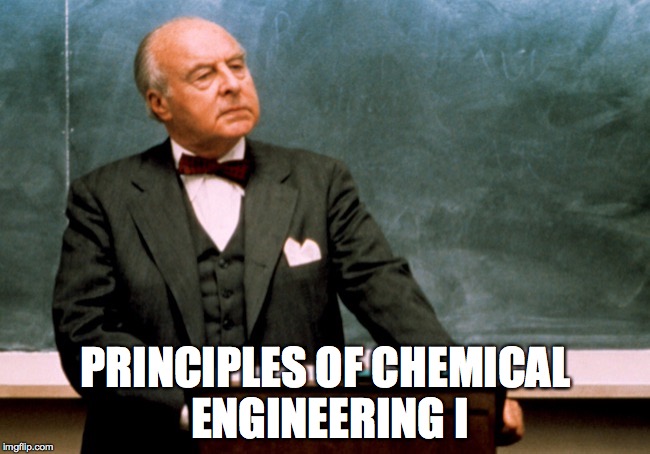 In a battle between students and subjects, this subject will be the first and the most dangerous enemy to deal with.
This subject basically reminded me of the Shadow King from X-men for its special ability to feed off of student's hatred. The more it progresses, the worse it gets!
It starts off easy, like every other subject, with recurring materials and equations. However, somewhere in between, new concepts start to seep in and take over the entire subject. More than approaching the concept, the questions are more difficult to approach.
They are long and include a lot of information, which eventually make engineering students lose their track.
As a student myself, I have seen other good students who barely passed the subject and students who didn't pass it for maybe 2-3 consecutive semesters. Not being able to pass it is absolutely normal, because this subject itself is abnormal. Therefore, take time with this subject.
It's hard, it's new, it's different overall. Practice all sorts of questions, if possible from various other books. Remember, the answer is in the question itself, so read the questions carefully. They are long, painful and have a lot of information, therefore, write down each of them.
This will lead to some other hidden information, which may eventually turn out to be the trump card for the engineering students.
Fluid Mechanics
This subject will be the bombard cannon on the battlefield, because it will go straight for the head, no pain no gain style. It's a very difficult, but an interesting subject, because it forces the students to think about the concepts in a whole new perspective.
Some concepts are old, some are new to the students, therefore it has a fair distribution of difficulty level throughout (which is somewhat high). Basically, it involves concepts of physics, which involves some maths. However, it's not the math part, it's the physics part, which makes the students go crazy.
After passing this subject, I felt like I could pass any subject in Chemical Engineering; the feeling was that overwhelming.
With this subject, the student always needs to be up-to-date. In the sense, students have to study this subject every day, because the chapters are long and the concepts are difficult to grasp.
Basically, it's trying to aim for our head like a hammer breaking our skull. Therefore, the only defense, we students have is to attack it with a study time wearing the thickest hard hat.
Question the concepts and clear even the minutest doubt you have about the concepts.
Thermodynamics I
This subject by far was the worst subject for me after Principles 1. They are the huge fortified walls on the battlefield, throwing heaps of arrows at the students from nowhere.
The ability of this subject to confuse the students is absolutely next level. The entire idea of Thermodynamics 1 is the ideal gases concepts. These concepts are like Mystique from X-men, they keep changing, taking on different faces!
Students need to practice a lot of questions to understand where to use the ideal gas equations. The best part was that we didn't have to memorize the equations. We even had to deal with theory questions, which also sometimes made us wonder, 'Why I am doing what I am doing?'.
This subject was really frustrating, because we had to get used to applying these hideous looking equations; like we already didn't have enough of those.
The thing is, this subject forces, literally kicks the students out of their comfort zone. So, we had to know where these equations came from and why they are being applied only in particular situations.
Therefore, know the equations, their conditions and where they should be applied. Practice, practice, practice. Logic, along with practice, will definitely make the student perfect for this enemy.
Mass Transfer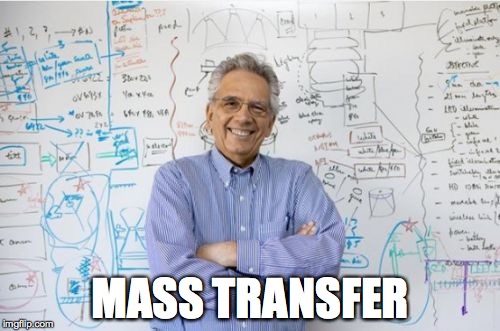 On the battlefield, these will be the Trebuchets, which will bombard the students with huge fire balls of questions.
Heat transfer and mass transfer use different terminologies, but are very similar concept-wise.
For example, I had my heat class right before the mass class, and in the beginning, it felt like we were doing one subject with two different names. However, starting from the middle, we had to deal with questions that just couldn't be answered with one or two equations.
We needed to know the steps, one answer led to another answer, one question led to several other questions for us students. The answers were long, but it was a step-by-step process.


We had to know some of the derived equations, which were the key to answering the questions. For me it was difficult, because I didn't know my information clearly and because of that I didn't understand what was happening in the question. Also, I suck at memorizing equations.
The questions are bound to confuse the students, because they are just never ending. Like Principles of Chemical Engineering 1, the questions are long and contain a lot of information. Therefore, again, take your time with the questions.
The concepts aren't difficult to grasp, its just the questions that take time to understand.
Physical Chemistry II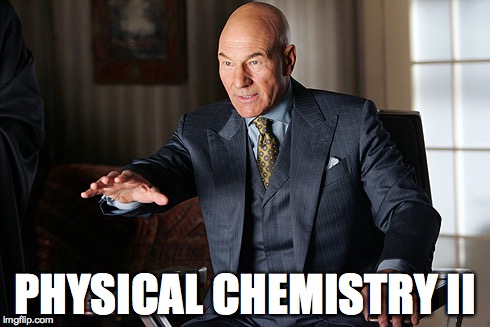 Hardest Subjects In Chemical Engineering (Source: imgflip)
Well, this subject was for us to understand what happens to the chemicals on a molecular and atomic level.
As my friends say, Physical Chemistry is the combination of major subjects like Thermodynamics and Heat Transfer. Well, it's basically like Juggernaut, crushing the students and their hopes of ever passing it.
It's more like the agony of Thermodynamics recurring 10 times fold.  It mainly involves studying the rate laws and how to derive them. Basically, Physical Chemistry I tells us if a reaction is feasible, Physical Chemistry II involves studying the kinetics of an equation and how that reaction will happen.


If students find rate laws from Chemistry interesting, then it will be a rather enjoyable subject for them. However, Chemistry is not something students are really fond of, especially after what we went through in Organic Chemistry I.
Therefore, the thing with this subject is to not slack off. Hating it is one thing, but we still got to pass it. So, know the basics, and as I said practice and logic. These will definitely be some useful tools to beat down this subject to a pulp.