Source: Lifewire
If you've ever browsed for a new computer, you've probably noticed the whole 32-bit and 64-bit operating system thing, or maybe you've encountered it when installing a new app of game and it asks you which version to download. Even your PC probably has a sticker that states whether it's 32 or 64 bit. Now, the big question is, what's the difference between the two? I mean, most operating systems run on 64-bits and everyone is probably telling you it's better, so does it even matter?
Well, it does, and for a good reason. If you're running on a 64-bit Windows PC, you've probably already noticed that you have two Program Files folders, one that says "Program Files" and the other one "Program Files (x86)". It's quite important to know the difference between them, and it becomes quite clear as to why when you've accidentally installed a program in the wrong folder and the app suddenly stops working.
Source: Online Computer Tips
Basically, the main difference between a 32-bit and a 64-bit system is that they have 2 different architectures; and it is due to this fact that these two systems read and write programs in two different ways. You see, the programs you install all use the same shared resources- called DLL files. They're just a bunch of libraries grouped together in a single folder so that programmers (and the apps themselves) can easily access these libraries when needed. They are written so differently that if a 32-bit application tries to read a 64-bit DLL (or vice versa), the app will just stop working.
This is also the reason why your 64-bit system has 2 program files folders. The normal "Program Files" one is for 64 bit applications, whilst the "Program Files (x86)" is for 32 bit apps. You see, so that programs won't run into compatibility issues when running and developers would have to be forced to overhaul their entire program's code to comply with the 64-bit system, they made 64 bit systems read both 64 bit programs AND 32 bit programs. The opposite however, is not true (I mean, it's like having an old 1980's PC run on Windows 10).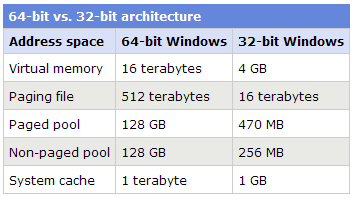 Source: Optiwave
So which one should you use? Well, another big difference is that 32 bit systems can run very smoothly, but only with a limited amount of RAM (around 4GB or less in Windows). So if you have a small amount of RAM, it's ideal to use a 32 bit system. If, however, you have more than 4GB (let's say 8, or even 16GB) then it's best to run a 64 bit system, as they do not have these memory limitations and can run much heavier, memory eating programs, making them perfect for gaming, 3D rendering on CAD, or video and image editing. What you plan to use your PC for should be taken in mind when choosing which system to use.
Article Sources: