Filipinos are known for their resourcefulness and their love for innovation so it really shouldn't surprise anyone if they have found a way to create their own version of a supercar. While foreign supercars have dominated the automobile industry around the globe, this Filipino company created a supercar two years ago that will make any Pinoy beam with pride. How does it match up with brands like Aston Martin, Maserati, Lamborghini, Mercedes-Benz and Ferrari?
If you haven't heard of this supercar, this was manufactured by Factor Aurelio Automobile, a car manufacturer you can find in San Pedro, Laguna. The company is owned by Brendan Aurelio and brothers, Kevin and Bryan Factor. Now you know where they got the name for the company, right? With their passion for cars, the wanted to improve the status of the automobile industry in the country so they decided to work on the Aurelio supercar.
Kevin Factor studied at Adamson University and was in charge of doing research for the internal mechanics of the car. Brendan Aurelio worked on the interior and exterior designs of the car. For every Steve Wozniak, there must be a Steve Jobs and the older brother Bryan Factor was in charge with the business side of the manufacturing. Their team has worked with Sonny Garcia, a marketing expert and Peter Sy, a businessman.
So, what does this supercar look like and what are its specs? Source: Kotseng Pinoy
| | |
| --- | --- |
| Engine | 2.0 liter Mitsubishi 4G63T turbocharged |
| Horsepower | 457 hp |
| 0-100 kph | 10 seconds |
| Top Speed | 290 kph |
| Suspension | VR4 (front and rear) |
| Tires | 18-inch ROTA |
| Seats | 2 |
| Doors | 2 |
| Price | P1.6 million |
This supercar looks luxurious just like all the foreign cars we see. It weighs 632 kg and has a horsepower of 457 hp. It can reach a top speed of 290 kilometers per hour. Its exterior looks just like a combination of high-end brands in the market. With its paint of bright yellow (or orange), it can definitely catch a stranger's attention and may even be thought of to be European-made.Most of the components of the car were sourced from local areas except for its wheels, brakes, transmission and a few suspension components. It is made of fiberglass and carbon fiber.
Source: Wereblog
Source: Carmudi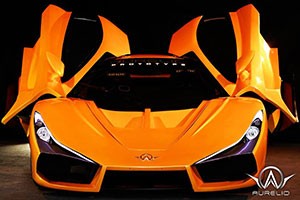 Source: Good News Pilipinas
The company only released 10 units for a price tag of P1.6 million each. Not as expensive as other supercars but if you're all for Filipino pride while maintaining the supercar feel to it, you surely would have wanted one yourself. Factor said, "That way, the cars can retain their value. If we make more than that, the cars will lose their value because they won't be unique anymore."
With only 10 units around, have you seen this car drive by you before?
Source: Mikeshouts
Article Sources: