One of the great things China is known for is their unique contemporary architecture like the LED-lit horseshoe in Huzhou, and that teapot building in Wuxi. However, in 2016 China's State Council made rules that forbid the construction of "bizarre" and "odd-shaped" buildings that lack character or cultural heritage, and instead shift their focus on "economic, green and beautiful." structures.
Source: Inhabitat
Now there are new plans for Liuzhou Forest City, which was designed by Italian firm Stefano Boeri Architetti. It will be built in southern China. It's a 34200-acre, self-contained neighborhood that will comprise of more than 70 buildings. This includes residential homes, hospitals, hotels, offices as well as schools. These buildings will be covered in 40,000 trees and almost a million plants. Soon, 30,000 residents of the area will be able to call this the Forest City home,
"(This is) the first experiment of the urban environment that's really trying to find a balance with nature," firm principal Stefano Boeri said in an interview with CNN.
Source: Blogger
The city plants is expected to absorb around 10,000 tons of carbon dioxide as well as 57 tons of pollutants per year, and in turn will produce 900 tons of oxygen a year. They also expect that this solution will decrease the air temperature and provide a new habitat for displaced wildlife. There will be installed solar panels on the roofs of the buildings which will colled renewable energy that will power the buildings. Geothermal energy will be responsible for powering air-conditioning.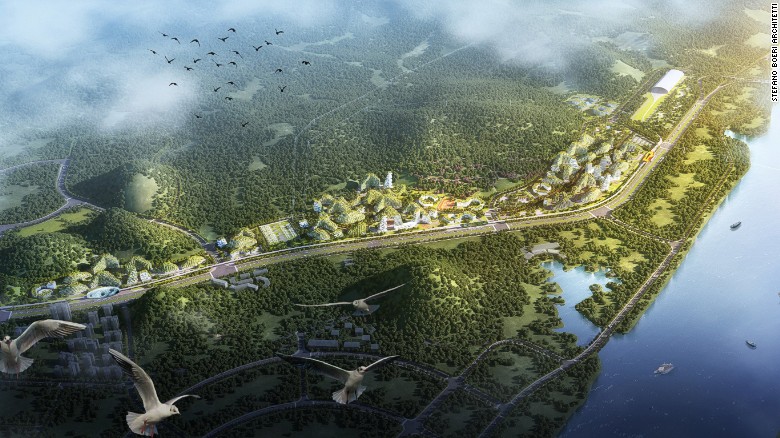 Source: CNN
"We've seen what's happening (in terms of pollution) in Beijing and Shanghai, but at the same time, China has to create to cities" to accommodate the population, Boeri said. The Liuzhou Municipality Urban Planning Bureau has already approved the plan, but the completion of this project is still years away. The construction is scheduled to begin in 2020, and according to Boeri, there is still a lot of planning and research that needs to be done before a completion date can be set. However, he is still optimistic and believes in the aim of this project.
"I really think that bringing forests into the city is a way to reduce climate change," he said.
Source: Arblive
Article Sources: