Engineers
Roses are red… Violets are Blue… It's Valentine's Day… So I wrote this article for you.
Happy Valentine's Day to all the Engineers out there!
The Day for love. We've all been there, and all of us have different moods throughout all the Valentine's days we've experienced through the years.
It's pretty funny how a single day can change a person's mood. In this article, I'll be introducing you to the 5 kinds of engineers on Valentine's day.
#1 The #LoveyDovey
Source: Pinterest
These are the usual valentine's posts you'll be seeing, and they're usually posted by a #LoveyDovey pair.
These pairs show the world how much they love each other, flaunting to the world the wonders of their undying love, and how no one can ever separate them.
#2 The #SingleandIndependent
Source: Pinterest
For many people, Valentine's Day can mean different things. For some it could mean "Happy Independence Day", to celebrate the joy of hassle-free, unchained life.
Other singles would declare this day as "Happy Singles Awareness Day", reminding themselves that it's another year of being alone and partnerless.
#3 The #BitterGourd
Source: Giphy
Ahem. Bitterness—the emotion that encompasses both anger and hate.
These bunch of people were either hurt at love once (or more) at love, or just probably hate the world and everyone celebrating the wonders of love on this day.
These people spend Valentine's Day dissing everything with disgust on everything that reminds them of love.
#4 The #Likers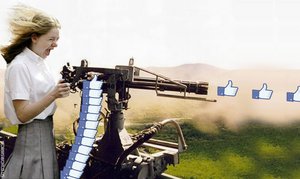 Source: DBO revelations
While around 30% of people (or probably more) may spread negative vibes on Valentine's Day, there are always sweet people who stay happy for all of you whether you're part of the #LoveyDovey, #SingleandIndependent or the #BitterGourd group.
They "like" almost, if not all your posts and comment "So happy for you!" "#relationshipgoals", "Jealous", "awesome!".
#5 The #Gamer
Unlike other singles who "pretend" to not care about Valentine's Day, this bunch actually doesn't care much about chocolates, flowers and smooches.
As long as they have their gadgets, games, joysticks and electricity, their valentines date is complete.
Among all these types, which one do you belong to?