Candy Crush is one of the most popular free-to-play match-three puzzle video games worldwide. Every smartphone user has played with the Saga version at least once to kill time when bored.
While we enjoy the app using our hands, American television broadcasting company CBS has a different idea in mind: include our bodies as well.
Recently, it has launched a new television show unwittingly called "Candy Crush," which allows contestants to play the game through huge tablets.
And we are not talking about television-size tablets, but 30-feet high and 20-feet wide screens.
For this, Guinness has officially awarded the show for holding the world's largest touch screen display.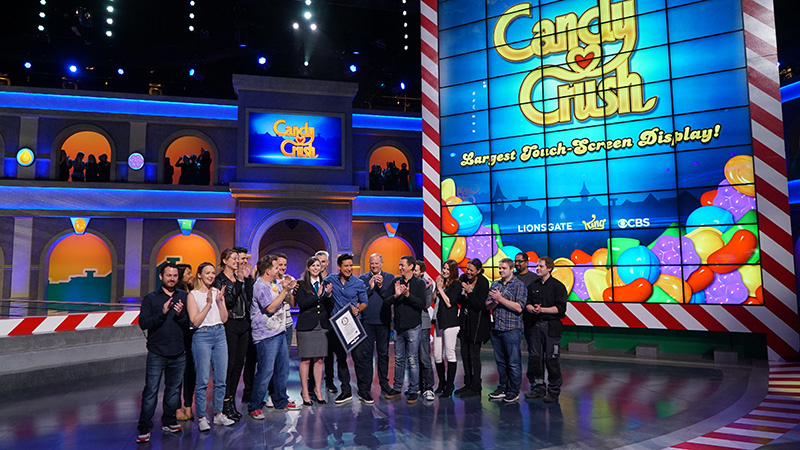 Photo by CBS
There is not only one, but two displays on the set of Candy Crush. One of them is laid on the ground like it is a dance floor, and the other is standing straight up.
Players are suspended in the air through a crane and let down so they could crawl around the tablet and swipe the candies the size of their torso. There are cases that players only stand or go up ladders.
Senior editor Ashley Esqueda and video producer Logan from CNET, a division of CBS, played the game as a perk of their jobs.
Video by Candy Crush Official GIF made via Giphy
"The reveal didn't disappoint," said Ashley. "I walked through a doorway onto a hyper-colorful, 360-degree set pulled straight from the game's design aesthetic: bursts of glitter carefully applied all around, and candy-striped window treatments framing audience viewing balconies above the set.
"I was instantly transported to a place of whimsy and delight. Slightly hallucinogenic, sure, but definitely memorable," she wrote.
One would wonder how one huge screen could be a one-piece tablet. The answer of four teams of engineers who worked on the tablet said that they have made it possible to combine several screens and make it as interactive as the normal smartphone display.
There are no gimmicks with the interactive displays, as the game happens in real time without decks behind the camera to control the game. Just to clarify as some would think that way.
Each monitor has 32 cameras watching the contestants' movement. And since there are 55 monitors in the world's largest touch screen display, there is a total of 3,520 cameras keeping an eye on the players as they compete.
Mario Lopez is hosting the show which will be shown over CBS on July 9.
Source: CNET