If you're familiar with Snapchat's Lenses feature, Facebook has added a similar feature to its messenger app. The add-on includes thousands of masks as well as special effects that can be added in real-time to video chats.
By using the new camera, you can doodle over photos or videos by using your finger, you can also add emojis, add real-time masks and effects to your videos, as well as add art filters to you photo creations. The app has already rolled these features out globally for both iOS and Android.
New background filters for your photos. Source: Yahoo
According to BBC, Facebook said that it made this move because "camera is now replacing the keyboard" in the way people are communicating.
It's also easy to see that many chat apps have certain similarities, and that the industry is definitely getting more competitive. Whenever a messaging app adds new features, the others will immediately respond. According to Ben Wood at the CCS Insight consultancy, "This is undoubtedly Messenger reacting to the challenge it has from rivals such as Snapchat."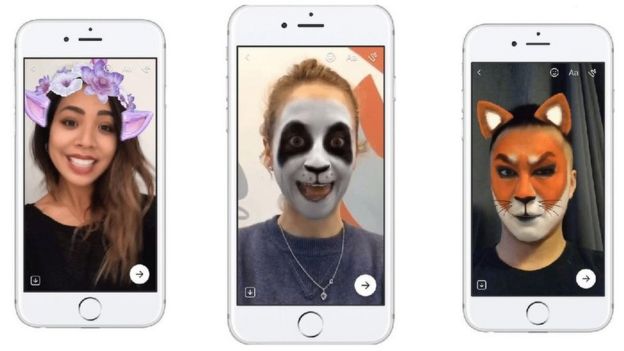 Real time masks and other effects can be added in real-time over users' faces. Source: BBC
Some time ago, Snapchat has to charge a fee to its users who want to access its lenses, but they made it free in January. The app still continues to earn in this app by charging brands to feature "sponsored" versions of their app.
If you're aware, last 2013, Facebook tried to buy Snapchat for $3 Billion. Unfortunately, they failed and Snapchat continued to be popular among younger users.
After the launch of Messenger's new feature, Facebook has been getting a lot of criticism for alleged "copying" of the features their rival has already been successful with.
When BBC asked a spokesman for Messenger about this matter, he answered "The way people share today is different than it was five or even two years ago, not only on our platform, but across any social media platform,"
"Facebook continues to have the largest global audience of teens and millennials […] so we want to cater to these changes."
Have you tried using this new add on? Tell us what you think in the comments!
Article Sources:
BBC
The Verge