So you wanna invest some money into buying your first ever drone. Great. Now, with all the hype surrounding these things, not to mention the several companies around the world that sell drones, which one should you get? Where do you even start? Should you go for those things with a lower price point since they're your first one, or should you splurge a few hundred bucks on the more expensive ones? Well, we're here to help you. Here are a few things to consider when getting your first drone.
The main thing you need to know when buying your first drone is finding out which kind of drone you want to get. Yes, there are different kinds of drones, each with a different purpose.
Source: Wired
If your wish is just to have something you can play with indoors or outdoors, then go for a toy drone. These have the lowest price point of all kinds, and are either controlled with a separate controller or via your smartphone. Most don't come with a camera, but the ones that do usually don't take very good footage, so be aware of that.
There are also standard camera drones, capable of taking a good-quality photos and videos at higher altitudes. The prices on these ones vary, depending on camera quality, how high it can go, and how long it lasts. These are usually the best for amateur photographers looking for something new to play around with. They're usually controlled via a separate controller.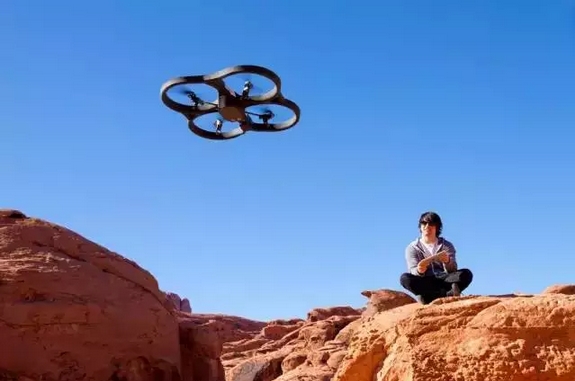 Source:People
The other categories aren't that important as they're geared for more advanced users, but we'll put them here anyways. Racing drones are ones that need to be assembled and are, as the name implies, geared toward speed. Professional drones are those used by broadcasters and filmmakers and offer superb video and photo quality, but are the priciest.
Another thing you might want to consider are the individual specs of each drone. Here's a list of the most important features to look out for:
Battery life – Just like any other smart device, these things can run out of juice- and they can do so pretty quickly. Even the best models can be drained in half an hour. In this case, you'd need to consider carrying extra batteries, and how much they cost.

Brushless motors – yeah, this is a thing. Brushless motors are more expensive that brushed ones, but they operate quieter and overall last longer.

Camera – If your goal is photographing or filming things at high altitude, then this is a must. It's pretty self-explanatory – look for ones with good photo and video resolutions. Some drones even allow you to attach your own camera.

Headless mode – remote operating can be tricky, so this is a plus. Headless mode means if you press the controller stick in one direction, it will move in that direction relative to  you, rather than where the joystick is pointing at.
There are a couple more features we'd like to add, such as Gimbal (image stabilization in the air), Follow-me mode (using GPS that'll allow the drone to follow wherever you go), and Obstacle avoidance, but these are the bare minimum, and the rest you can look up yourself.
Hopefully this guide will help you pick the best drone that gives you the best bang for your buck. Now, get flying!
Sources: