Window Air Conditioners might obsolete to some but here are the best 10 brands you should take a look in.
If only a room needs some cooling, it would not be necessary to turn on the central air conditioner. This does not only cut the electricity cost but it also allows your central air conditioner to extend its life.
With a lot of its advantages specially in a summer season, below are the top 10 best window type airconditioners to choose from.
LG LW8016ER
LG LW8016ER Window Air Conditioners
Features/Specifications
2016 energy star: 12.1 energy efficiency Ratio (EER)
Uses standard 115V electrical outlet
Product Dimensions 19.6(D) x 19.4(W) x 12.4(H) inches
8,000 BTUs cools a room up to 340 sq. Ft, Dehumidification up to 2.2 pints per hour
3 cooling speeds/3 fan speeds for cooling flexibility
Koldfront WAC12001W
Koldfront WAC12001W Window Air Conditioners
Features/Specifications
12,000 BTU 1100W/5.0A cooling; 11,000 BTU 3500W/16.0A heating functionality
450- 550 sq. ft. coverage area
Remote control included; 4 operation modes; 2 year warranty
Installation hardware and weather seals included; 4-way air directional louvers
For a cool only version of this unit see model # WAC12002WCO; energy saver mode; EER 10.9;
Window Width: 26 7/8 to 36
Window Minimum Height: 16 ½
Input voltage: 208/230 V/60 Hz
Frigidaire FFRE1533S1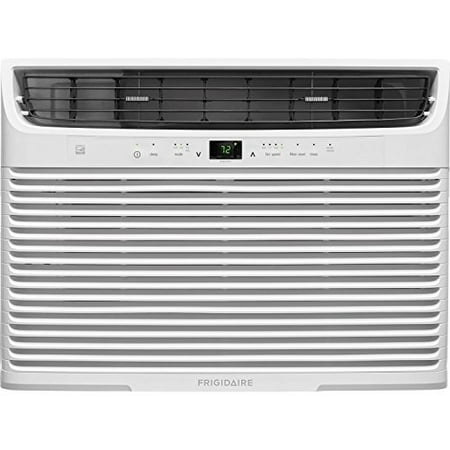 Frigidaire FFRE1533S1 Window Air Conditioners
Features/Specifications
BTU:  15,100
Dehumidification (Pints/Hour):  3.8
Cool Area (Sq. Ft.):  850
Energy Efficiency Ratio:  11.8
Electronic Controls:  Ready-Select Controls
Fan Speeds:  3
Low Voltage Start-Up:  Yes
Auto Cool Function:  Yes
Energy Saver Mode:  Yes
Sleep Mode:  Yes
Filter Check:  Yes
24-Hour On/Off Timer:  Yes
Clean Air Ionizer:  Yes
Remote Control:  Yes
Air CFM (High/Med/Low):  353 / 308 / 250
Air Direction Control:  8-Way
Fresh Air/Exhaust Vent/Closed:  Yes/Yes/Yes
Filter Type:  Antibacterial Mesh
Filter Access:  Tilt-Out
Chassis Type:  Slide-Out
Costway Compact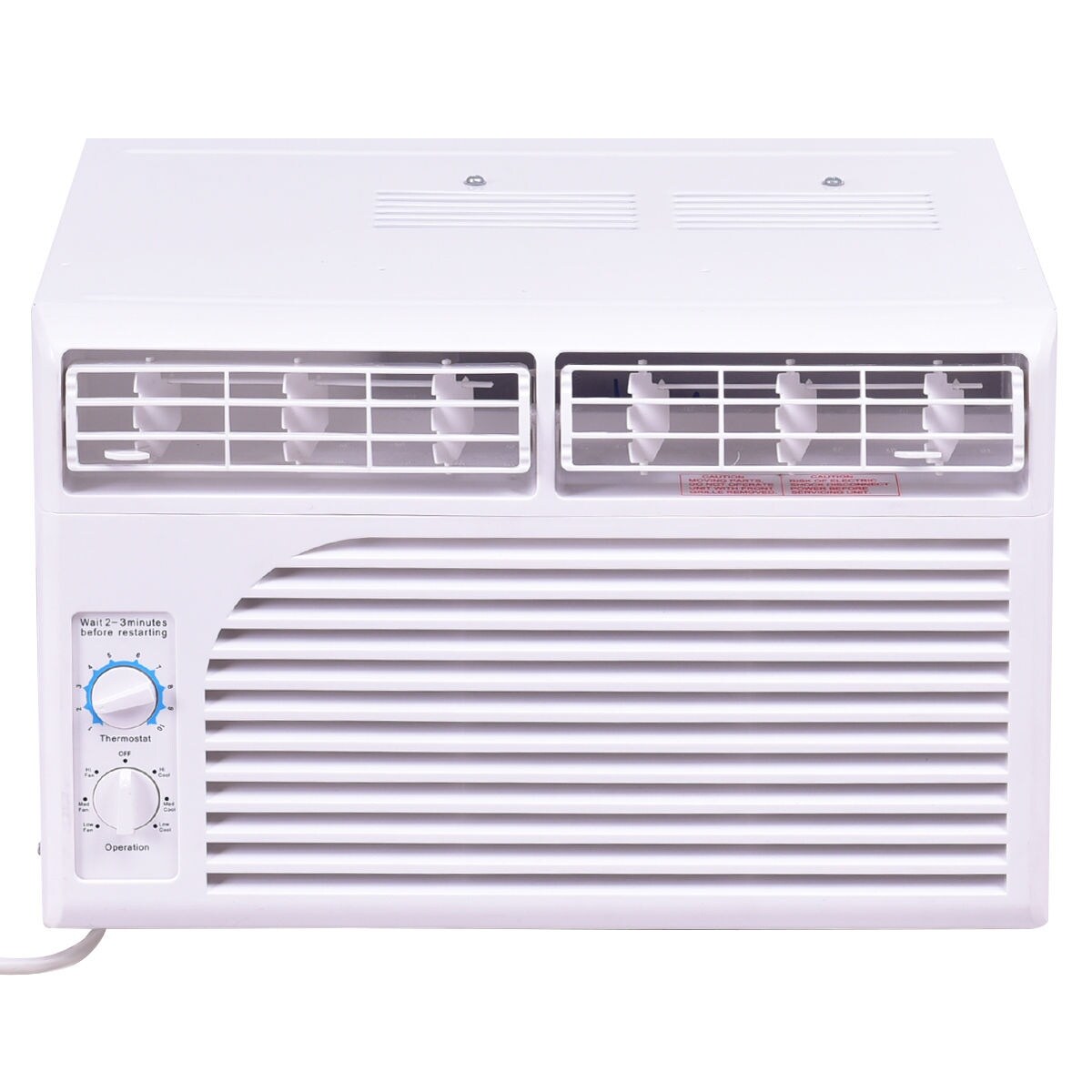 Features/Specifications
Low operation noise and low energy consumption
10,000 BTU mini-compact air Conditioner for window-mounted installation
Quickly cools a room up to 225 sq. ft with dehumidification up to 2.3 pints per hour
2-way air direction control
Temperature can be set from 61to 90 degree F
Features 3 speeds:High, Med, Low
3 modes:Cool, Dry, Fan
1 timer :Can set time from 1 to 24hours
Easy Installation
Accommodates windows with a minimum height of 14.5 inches and width of 22.5 inches to 36.5 inches.
Dimension:19" x 21.5" x 14.4" (LxWxH)
Refrigerating capacity:8000BTU
Refrigerant type:R410A
Standard voltage:115V/60Hz
Package includes:1x air condition, 1x instruction
SPT WA-1222S
Features/Specifications
ASHRAE Cooling Power 12000 BTUs
Recommended Coverage Area  500 sq. ft.
Energy Efficiency Ratio (EER)       11.3
Energy Star         Yes
Estimated Yearly Operating Cost               $96.00
Wi-Fi Capable    No
Installation Kit Included Yes
Chassis Type      Fixed
Height   14.75 in.
Width    19.69 in.
Weight 68 lbs.
Depth   20.94 in.
Maximum Operating Temperature – Cooling       115 degrees F
Minimum Operating Temperature – Cooling        60 degrees F
Minimum Window Width             23 in
Maximum Window Width            36 in
Wall Sleeve Included      No
Number of Fan Speeds 3
Maximum Cubic Feet per Minute (CFM)               500 CFM
Thru-Wall Installation Option      N
Controls               Electronic
Remote Control                Yes
Programmable Timer     Yes
Auto-Restart      Yes
Fan-Only Mode Yes
Heat Mode         No
Heater Type       N/A
Dehumidifier Mode        Yes
Moisture Removal per Hour        3.2 pints
Sleep Mode       Yes
Airflow Direction Control              Yes
Air Filter               Yes
Check Filter Indicator     Yes
Refrigerant Type              R-410A
Intrusion Protection       Yes
Insect Barrier     No
Voltage 110-120 V
Maximum Cooling Wattage         1110 W
Maximum Cooling Amperage     9.5 Amps
Minimum Noise Level    51 dB
Maximum Noise Level   59 dB
Circuit Breaker Rating     115V-15A
Plug Face Type  14LCDI
Power Cord Length         6 ft.
Color     White
Frigidaire FFRA0511U1
 Features/Specifications
General Specs: Warranty: 1 Year Full/5 Year Sealed System
Annual Cost(.12 / kWH): 41|Shipping Weight (lbs): 48|Window Height: 13″|BrandFamilyFrigidaire: Yes|Reconditioned: No|Refrigerant: R410a|Product Weight (lbs): 41|Window Width: 23″ – 36″
GE AHM08LW
Features/Specifications
Energy Start Rated Window Air Conditioners
8,000 BTUs of cooling power
Approx. 350 sq. ft. room size capacity
3 Fan Only Speeds / 3 Cooling Speeds
4-way air direction flow
Electronic Digital Thermostat
24 hour On/Off Delay Timer
1-Touch Lift Out Filter
Adjustable Side Panels will extend to fit your window opening
Remote Control
EZ Mount Installation
 HomeLabs Indoor
Features/Specifications
COLD WINDOW AC FOR SMALL HOT ROOM
Heavy duty 5000 BTU window air conditioner for indoor spaces up to 150 square feet
best for bedroom rv or small apartment
INCLUDES WINDOW AIR CONDITIONERS KIT
Electric window AC system comes with filter, support bracket, side panel leaf covers and window air conditioners seal foam, and includes helpful user guide for drip free installation
10 MINUTE COOL TIME
Quiet mini air conditioner features 7 speeds, two-way airflow and adjustable fan settings to quickly and powerfully reduce hot temperatures and cool small rooms in 10 minutes or less
REUSABLE ECO AC FILTER
Window AC unit features reusable washable filter that can be easily washed with warm water and dish soap or vacuum cleaned for longer use (if washing, please allow to dry thoroughly before re-installing)
BEST PERSONAL OR RV AIR CONDITIONER
5000 BTU window AC unit for 110V/120V electric outlets measures 16 inches long x 12 inches high x 15.4 inches deep – ideal for window length between 23" – 36" with minimum window height 13"
YOU-FIRST SUPPORT
You are the most important part of hOme. From our 30 day no questions asked money back guarantee to our 2 year (+6 months with product registration) warranty on all of our products we will go to great lengths to ensure your happiness.
Koldfront WAC8002WCO
Features/Specifications
Cooling Area: 350
BTU Cooling: 8000
Voltage: 115
Heater Included: No
Frigidaire FFRA0511R1
Features/Specifications
Window Width: 23″ – 36″
Annual Cost(.12 / kWH): 41
Reconditioned: No
Window Height: 13″
ProductLaunch: NA
Shipping Weight (lbs): 48
Product Weight (lbs): 41
Refrigerant: R410a
Warranty: 1 Year Full/5 Year Sealed System
Power Type: Electric
Click here to read more articles about this.
Click here to follow our LinkedIn Page.