All of us had felt nostalgic for the past once, especially in the 80s and 90s, before the time of smartphones and fiber internet. It was quite the era, as new gadgets were coming out here and there, always replacing the ones that came before it. One classic we'll never get tired of though is the cassette and its player. Those old magnetic tape disks that we used to listen to our favorite tunes on the go and had to manually unwind with a pencil if we wanted to re-listen to it again.
Nowadays though, cassettes are considered bulky, old, and a drag to carry around. And while it'd be nice to listen to those old cassette tapes you have in your basement, no one sells a cassette player anymore. However, this new gadget not only lets you listen to your favorite cassette tapes, but also does so in a modern fashion.
Source: The Audiophile Man
Elbow is a mobile cassette player that mixes old technology with a sleek, modern design. Old cassette players use a capstan and a pinch roller to drag the tape along the magnetic head at a constant speed, with two rotating pulleys running on motors reeling in the tape. This design is unnecessarily complex and bulky.
Elbow, however uses a single puller to reel the tape, with an optical sensor tracking the tape's speed as a control parameter to ensure constant speed for optimal playback.
Source: SVopi
It's most obvious feature is the biaxial arm that rotates in two directions: upwards, to insert and remove cassettes, and sideways, to manually switch the playing direction. It's similar to a vinyl record player in that manner.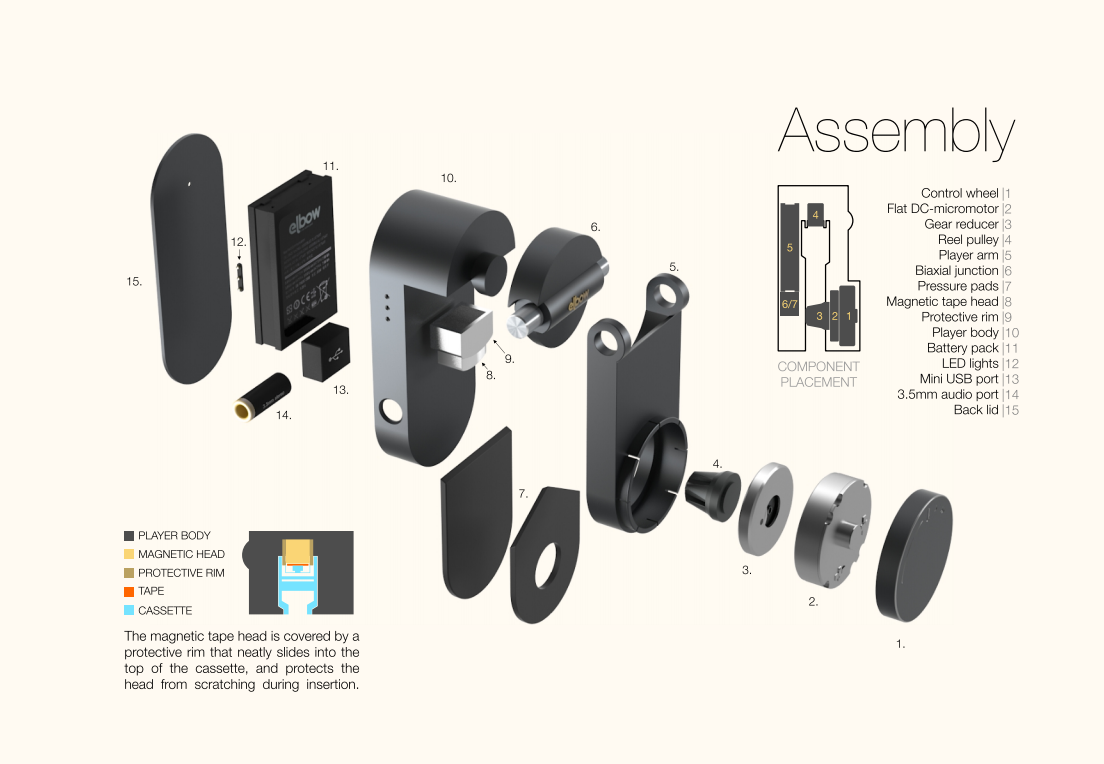 Source: Hipasonic
It also has a control wheel that serves 3 functions: the initial position turns the device off. Turning the wheel left plays the cassette and increases the volume, and turning it right fast forwards it.
Source: The Audiophile Man
The device uses the standard 3.5mm audio plug to connect your headphones in, allowing you to listen to your tunes, and a mini USB port, for charging and transferring audio from the cassette to your PC. Yes, you can transfer audio from the cassette to your PC. Don't ask us how.
Finally, it has a pin on the back lid, allowing you to attach it to your clothes or any textile object.
Sadly, Elbow is still a concept device. There are plans to bring it to production so let's hope it will push through soon!
Article Sources: