There is no doubt that the field of manufacturing is largely affected by the flourish of modern technology in the best of ways. Making products and transforming lives have come a long way now that technology and innovation have arrived.
Much more now that there are six revolutionary technologies already in the manufacturing industry finding means for increased speed, customization, precision and efficiency.
3D Printing

Source: 3D Printing
This technology is no longer exclusive in product design, now making waves in the mass production. Convenient because it has the flexibility of design using a wide variety of materials, 3D printing has changed the manufacturing industry by drastically reducing design to production times and manufacturing lead times. It also is an easier way to product individual and small lot products from machine parts to prototypes.
The Internet of Things

Source: GE Reports
The aim of Internet of Things is to connect all our machines and devices, working closing together for the human convenience. Interconnectivity means better communication, faster response times, and greater efficiency. And it's starting to be realized by the manufacturing industry which uses such technology in their operations.
Nanotechnology

Source: Tumblr
Although still relatively in the underrated spectrum in manufacturing, nanotechnology seeks to produce anything that can be manipulated on an atomic, molecular or supramolecular level. Manufacturing can benefit to this the most in enhancing materials.
Cloud Computing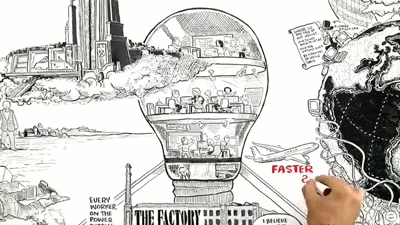 Source: Make a GIF
Manufacturing has just recently been in touch with cloud computing because of treat to security. But slowly but surely, it has coped up. The impact is already being seen in connection across multiple plants, as compared to Internet of Things. Data can be shared among companies across the globe which reduces costs and production times.
Next-level Robotics

Source: Tumblr
Robotics in the industry is not new. But when it's taken to a whole new level, now we're talking. Robotic arms and robotic machines that are too advanced are already replacing jobs in plants and they are going to do that more now that advanced robotics are seen to be more cost-saving and efficient when it comes to plant processes and operations.
Augmented Reality

Source: Steve Brown Futurist
The benefits of augmented reality in manufacturing includes real-time instructions, notifications, and monitoring, improved safety warnings, more effective training, data retrieval and reduction of maintenance support on-site. All these are already changing how manufacturing works. And so far it's been effective. We'd expect more technology like these to turn up in plants.