Ah yes, James Bond. Who doesn't know about the iconic film franchise that has been going on for decades? Being ready to foil a villain's plot takes more than just his quick wit and dashing good looks. Sometimes, it's his cool gadgets that are a mix of realistic and fictional. They're just so cool that we wish we could have them, or even have them exist in the first place. Here, we break down 10 of of the film franchise's coolest and most memorable gadgets of all time.
1)   The Bagpipe Flamethrower, The World Is Not Enough (1999)
Source: Geocaching
When Pierce Brosnan's version of James Bond was given a tour of Q's lab, as usual, there were some pretty weird gadgets under development. I mean, the scene where Bond walks through Q's labs always end up with a few gag gadgets here in there, which is hilarious. One of which is the bagpipe (and machine gun) flamethrower. Now, I have no idea where in the heavens you would need it for, but hey, it's pretty inconspicuous.  
2)   Multitouch Table, Quantum of Solace (2008)
Source: Telegraph
This awesome multi-touch screen the size of a dining table is pretty cool and futuristic. You can spin around and fling digital documents around the table and look into the files with a single touch. It also automatically scans any paper that touches its surface.
3)   Car Invisibility Cloak, Die Another Day (2002)
Source: High Style Life
While this isn't the first time Bond has driven an Aston Martin, Die Another Day put an interesting twist on it, by making it invisible to our eyes. Pretty neat if you're being hunted down by a shady evil organization of some sort.
4)   Rolex Submariner, Live and Let Die (1973)
Source: Watch Guru
Watches have played a pretty major role in the lore of the Bond movies, and this is no exception. Bond's Rolex Submariner in Live and Let Die can come in quite handy, as it turns into a mini saw. Good for hiking and camping trips in the woods, or when you've been abducted and tied up.
5)   Omega Seamaster Professional Watch, GoldenEye (1995)
Source: Watches In Movies
Speaking of watches, this one fires a freaking laser out of it.
6)   Submarine Lotus Esprit, The Spy Who Loved Me (1977)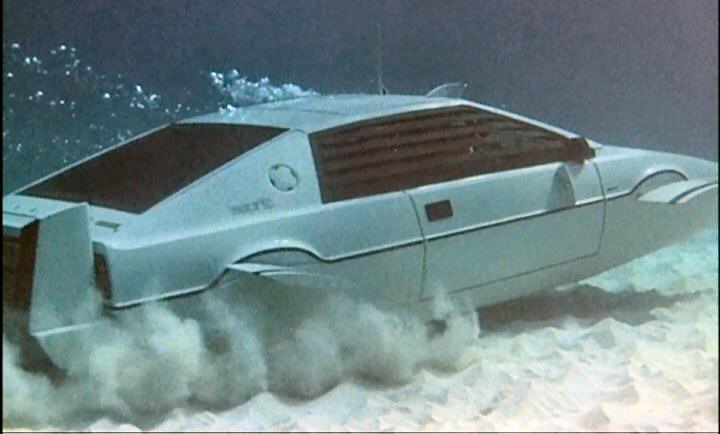 Source: 007 Museum
Ah yes, who could forget the submarine car. Comes in handy when you're being chased around the Island of Sardinia. Not only useful for travelling underwater but also as a weapon that fires surface-to-air missiles, torpedoes, and mines.
7)   Crocodile Vessel, Octopussy (1983)
Source: Pinterest
When you're fleeing from a floating Indian lair with a ton of cult weapons with jewelry smugglers dressed as circus performers, this'd be pretty neat. The fact that it looks like a crocodile that'll scare away anyone who gets close is an awesome plus, too.
8)   Ghetto Blaster, The Living Daylights (1987)
Source: Benoliver999
And yet again with the gags in Q's lab. This one is absolutely awesome. It's a boom box that literally goes boom by firing a rocket.
9)   Ericsson Phone, Tomorrow Never Dies (1997)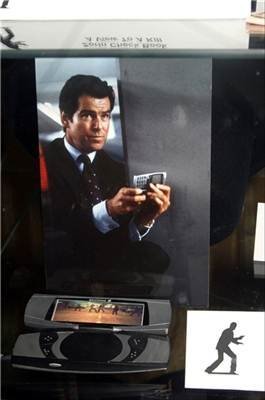 Source: Ttgt Media
While the phone itself is pretty meh (it is 1997, after all), This Sony Ericsson Phone is really cool. It can pick locks, scan fingerprints, and can even be used as a stun gun. Also, did we mention it's a remote control for Bond's luxury sedan?
10)   Bell-Trexton Jetpack, Thunderball (1965)
Source: Pinterest
Definitely the absolute most iconic gadget there is when we think of James Bond movies, the Jet Pack is everyone's favorite device. It literally comes out of nowhere as Agent 007 flees from a French chateau in an awesome yet comical way.
Article Sources: