Johnny Cobankiat
Seeing the success of the Co Ban Kiat Hardware Inc. (CBKHI) today, one can never imagine that this top-of-the-line corporation once started out as a humble store admist Manila's Chinatown in the 1920s. After decades' worth of hardwork, they are now one of the leading building supply manufacturers in the country, helping hundreds and thousands of Filipinos achieve their dream homes.
Co Ban Kiat Hardware Humble Beginnings
Their success story dates back to the post-World War II era which left the Philippines in major ruins. Filipinos were having a hard time starting from scratch and rebuilding their wrecked communities. This plight alone inspired Atilano Cobankiat to re-open his then small Co Ban Kiat Hardware and help Manila recover from its war-stricken state. This opened a whole new world of opportunities for the business, and soon enough, they started manufacturing and supplying home building materials in hopes of rebuilding the great city.
Johnny Cobankiat Leadership
A couple of decades after, the leadership was passed on to Atilano's son, Johnny Cobankiat. Thanks to his father's willingness to give a helping hand in improving the Filipino homes, their company is now booming in the building supply manufacturing industry. And now they see themselves in the business of not only home building but nation building as well.
While his father is more focused on the foundation of home improvement, Johnny Cobankiat decided to explore the other side of the picture: aesthetics. He strongly believed that there should be a balance between form and function. So in 1996, he ventured into the aesthetics sector which gave rise to Coby's Design Center located in Edsa Shangri La.
The specialty store is dedicated to satisfying the Filipino's craving for lavish innovations for their homes.
The Birth of ACE Hardware Philippines
A year after the establishment of Coby's Design Center, Johnny Cobankiat pursued yet another huge business venture in hopes of easing the Filipino living. He introduced the first ever branch of ACE Hardware in the Philippines.
In partnership with ACE Hardware USA, Johnny aimed to provide the Filipino people with trustworthy hardware products that are both reliable and affordable. CBK Hardware Inc. helped the American hardware retailer gain the trust of the locals, and eventually, both companies grew to a whole new level.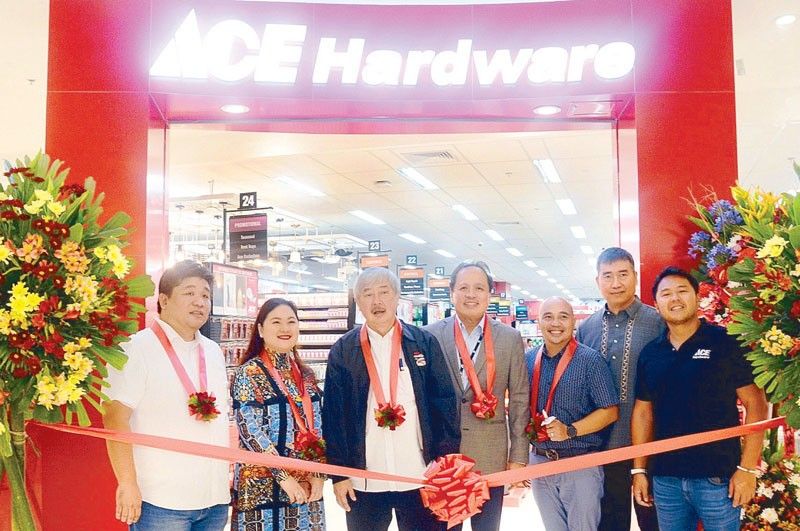 With his passion and dedication to serve the Filipinos in the best way he can, Johnny Cobankiat proved that there is more to business than just earning profit. Because of his great values and hardwork, his achievements can now speak for himself, and the companies he embodies all share his love for the field of hardware and construction.
About ACE Hardware Philippines
ACE Hardware, one of the leading hardware stores in the United States, opened its first franchise in the Philippines at SM Southmall, Las Piñas, Metro Manila in 1997. Since then it has had one purpose: to bring to the Philippine market the ultimate one-stop-shop for the latest solutions for home improvement.
Since its inception in 1997, ACE Hardware has grown to become one of the country's leading home hardware chain with 148 ACE Hardware branches nationwide and has now expanded with three ACE Builders Centers and still growing.
ACE Hardware's core product ranges can be summarized under the home improvement merchandise. Its nine main categories are:
1. Paints and Decorating
2. Outdoor Living
3. Plumbing
4. Electricals
5. Home Organization
6. Home Safety
7. Home Basics
8. Power Tools
9. Car Care
ACE Paints, the lead-free and odorless paint, is also available. ACE Paints has over 2,000 colors to choose from. With its hi-tech color matching system, one can simply bring color swatches which will be scanned by computers to get the colors in an automated and precise manner.
Behind this massive project and wide array of products is a strong customer service philosophy. ACE Hardware does not only take pride in offering quality hardware and building products, but also providing well-trained sales personnel ready to answer questions and professionally handle requirements.
There are 40,000 home improvement solutions found in ACE Hardware.
ACE Hardware is an affiliate of the SM Group of Companies.
Contact
Co Ban Kiat Hardware, Inc.
Ground Floor Cobankiat Building II
231 Juan Luna St. Binondo Manila, Philippines.
Phone +632 2476557 Phone +632 2432734
Coby's Designer Center
Unit 467 level 4 Shangri-La Plaza
Edsa Corner Shaw Boulevard
Mandaluyong City, Philippines
Phone +632 6364895 Phone +632 6364896
You might also want to read
Johnny Co Ban Kiat and His Contributions in the Philippine Hardware Industry
#LeadersTalk with Co Ban Kiat Hardware Philippines
Best Lighting System for EMT and Security Personnel
Manila and Chord Electronics Ltd – The Ultimate Pair for the Perfect Audiophile Sound
The Evolution of Door Locks: Featuring Baldwin Hardware
PH Elected Officials Must Have This Lighting System During Election
The Importance of Flashlights for Police During Philippine Elections