It has already been long known that music can have mood-shifting effects on people who listen to them while working or studying. Music can help maintain focus while your are working and get things done. But there is a catch, music can be helpful only if it's the right type of music.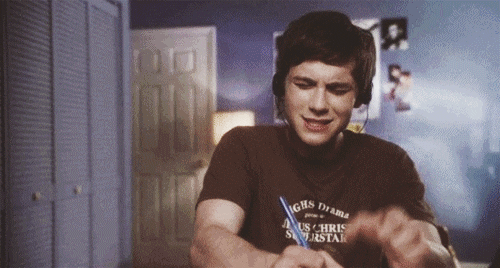 Source: Giphy
According to a 2010 study that has been published in Applied Cognitive Psychology, "Absorbing and remembering new information is best done with the music off." But it continued to state that "when a well-practiced expert needs to achieve the relaxed focus necessary to execute a job he's done many times before, music can improve performance."
So if you need to finish some routine tasks or do some heavy scheduling for the week, it can be helpful to turn on some music.
Here are the types of music that can bring out your most productive side.
Mozart
The Mozart effect suggests that when you listen to certain kinds of music like Mozart's classical works, it increases the ability of the person to think out long-term, and give them higher probability to find abstract solutions to logical problems.
Classical music is mathematically logical. Its different concertos, and variations have different patterns and musical standards that have been structured in different ways.
The right music for the mood
Listening to the right kind of music depending on the situation can have a dramatic effect on your mood, as well as in your willingness to take initiative. So if you want to feel empowered, choose rock music, or music that has good bass.
Instrumental music
While we all love our music as we sing along with the lyrics, lyrics can be conflicting to the brain. Stick to instrumental music when you are doing word-based tasks, so that the words in the music won't have any conflict with the words you are reading.
Nature Sounds
Ambient sounds, or background sounds can be very helpful when you want to concentrate or be immersed in you current task.
Video Game music
Music for video games can help you concentrate for lengthy tasks. Well, this type of music was created to keep a player engaged for long periods of time, so it may as well do the same for a person who needs to be engaged in a work task.
Source: Smassets
Article Sources: