Coolest Gadget Gifts for Engineers
Whether its for your anniversary, a birthday celebration or someone finally passed that fluid mechanics exam, these are the best gadget gifts for engineering students.
Top 10 Coolest Gadget Gifts for Engineering Students
1. Engineer's Pen
Price: ₱279 / $9.99
Where to Buy
Buy this on Banggood

Buy this on GearBest
What makes it cool?
6-in-1 Multifunction Engineer's Tool Ballpen
Whether you write memos on paper or keep notes on your phone, our 6-in-1 Multifunction Engineer's Tool Pen is a handy tool to keep by your side. The ballpen's aluminum material helps make it lightweight, so carrying it is a breeze.
Perfect for DIY projects or around-the-house maintenance. This marvelous pen features a Ruler, Spirit level, and both Flathead and Phillips screwdrivers! Keep a toolbox's worth of tools pen right in your pocket.
Stylus – compatible with all touch screen smart devices, tablets and phones, and other touch screen devices.
The Engineer's Pen is a fantastic gift, especially for any hard-to-buy-for relative. It will delight any handyman or gadget lover. This is the kind of cool gift that gets people talking!
Perfect Novelty Gift for engineering students
The Engineer's Pen allows for accurate on-screen movements, drawings, and precision touches. Not only does the pen have a stylus tip at one end, but it also has a refillable ballpoint pen at the other end. The Engineer's Pen is ideal for making quick, small measurements as a 4 inch ruler on its body. You'll never have unlevel pictures hanging at home or work again due to its built-in spirit level. By removing the stylus end of the Pen, the screwdriver tip is revealed, pull this tip out, and you'll see that it is double-ended with one end being a Phillips and the other being a Slotted head. So where ever you are you'll always have a screwdriver on hand.
2. Rocketbook Everlast Reusable Smart Notebook
Price: ₱2,200 – ₱2,595 / $37.00
Where to Buy
Buy this on Banggood

Buy this on GearBest
What makes it cool?
The Rocketbook system connects traditional handwriting surfaces with the power of the cloud.
Use any of our reusable notetaking products for a traditional handwriting experience.
Rocketbook products can be reused, so you can stop using your other paper notebooks and save trees. When paired with Pilot FriXion ink, the pages of your Core can be wiped clean with water and a cloth!
Got an iPhone or Android? Prepare to harness the future of notes in the palm of your hand. Use the free Rocketbook app to configure popular cloud services as your scan destinations.
Time for liftoff! Start scanning your notes, to-do lists, and out-of-this-world ideas. See green, snap, and your notes will be visually enhanced! Then, your scans will automatically blast off to their rightful cyber destination at the speed of light, err… your mobile connection.
3. Stencil Board Light Box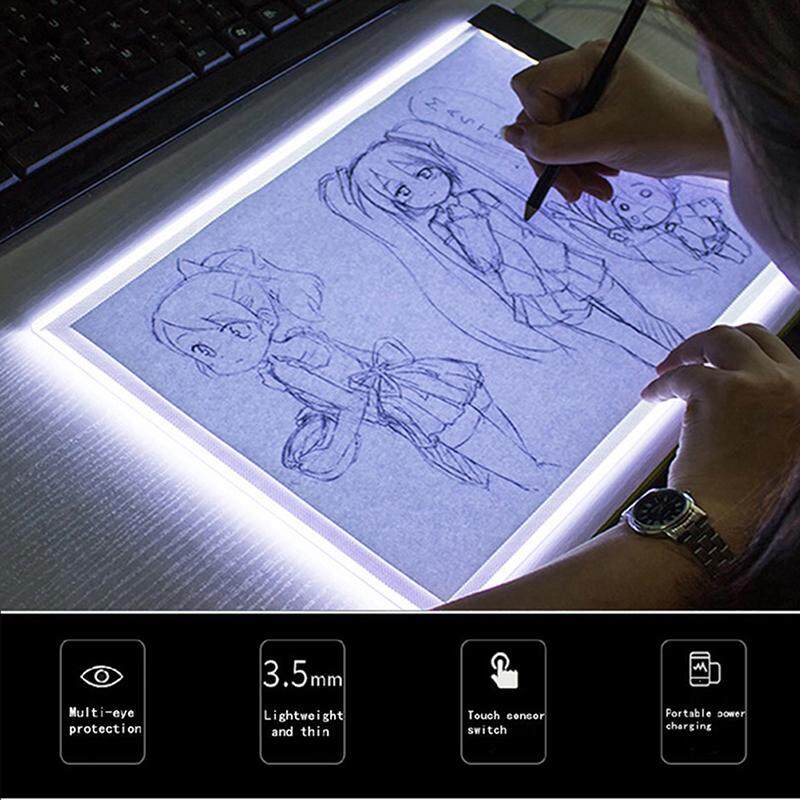 Price: ₱287 – ₱290 / $23.99 – $40.00
Where to Buy
What makes it cool?
Light weight super slim light pad, thickness 

Adjustable brightness. It's gradual dimming effect.

Light box with energy efficient flicker-free LED lamps, provides a perfectly even illustrated surface.

USB powered 

Ideal for stenciling, engineering drawings, 2D animation, calligraphy, embrossing, scrapbooking, tattoo transferring, sketching & drawing, streaming, sewing projects, stained glass, quilting etc.
4. 
Measure King Digital Tape Measure
Price: ₱600 – ₱664 / $16.99
Where to Buy
Buy this on Banggood

Buy this on GearBest
What makes it cool?
Features 3 different modes. Roll mode for curved surfaces or irregular objects, Flex Cord mode to measure around objects, and Laser mode for long and hard to reach areas!

The heavy duty measuring tape lets you easily switch from standard to metric measurements. All measurements are precice to 1/100 of an inch.
5. 3D Pen
Price: ₱695 – 865 / $19.99 – $39.99
Where to Buy
What makes it cool?
Creative 3D Maker: Use this 3D drawing pen design art and your favorite object or cartoon out of your own imagination. Freely to draw any shapes vertical or horizontal. Set free of the imagination for both kids and adults
Perfect gift for birthday, wedding, Christmas , business occasions or other parties
Multiple Uses Widely Applications: Design for people of all ages who love art and DIY their own crafts work that you need absolutely this pen to create in the modern way and comfortable to hold with the ergonomic holding design
6. Optical Image Drawing Board
Price: ₱209 – ₱237 / US$7.99 – $14.68
Where to Buy
What makes it cool?
The picture is not projected onto paper, through the lens sheet, you can see that the picture is imaged on the drawing paper. Tracing board has two sides, front and back, the projection effect of two sides is different, please use the front.
7. Powerbank 30000mAh
Price: ₱429 – ₱695 / $27.17 – $34.19
Where to Buy
What makes it cool?
Engineering students hate low battery gadgets. Giving this power bank will bring to those low batt engineers.
8. Tactix 950028 Multi-tool & Torch
Price: ₱840
Where to Buy
Buy this on Amazon

Buy this on Banggood

Buy this on GearBest

Buy this on Shopee
What makes it cool?
Nine in 1 multi function pliers with 150 Lumens tactical LED flashlights. Comes with 2 AA batteries. For cars, emergency, survival, camping, hiking, outdoor sports, and stormy place
9. SERVO K07
Price: ₱1,051 – ₱1,139 / $25.99 – $45.16
Where to Buy
What makes it cool?
Its a pen, camera, voice recorder, dual sim card cellphone, bluetooth, camera and has a tiny screen.
10. Xiaomi Mi Redmi Airdots
Price: ₱1,049 – ₱1,199 / $17.57 – $22.91
Where to Buy
What makes it cool?
Redmi AirDots S has made a big improvement in connection mode and game latency compared to the old Redmi AirDots.
More cool gadgets