It's very normal for college students to take pride of the traditions of the universities they are part of. The excellence and high standards each university upholds are things students like to brag about to their friends and acquaintances. But sometimes, universities are not also known for their academic achievements and excellent school programs, there are universities that are known to have unusual but cool traditions that other universities don't have.
Some traditions are daring, some are weird and others are just for everybody's entertainment. Whatever these traditions do, they are something students look forward to in a college life that is full of stress and anxiety. Here are some awesome college traditions from different colleges in the US.
The Primal Scream Party
Source: Course Hero
If you happen to live in Northfield, MN, you'll know if it's the start of Carleton College's finals when you hear shrieking and wailing at 10:00pm on the night before the start of finals. These students would release all their stress through their screams before they go back to studying again. These students have added a new twist to their tradition by having a silent dance where they would sync all their playlist, put on their headphones and start dancing at 11:00pm that starts in the library then moves to other buildings on the campus.
The Birthday Dunk
Source: Occidental College
When you study in Occidental College in Los Angeles, CA, you would want to avoid your friends on your birthday. Quite the opposite of how birthday celebrations should be but there's a reason for it. Students would be caught by their friends and immediately dunk them in The Fountain. And it can happen anytime.
The Healy Howl
Source: Britannica
One of the locations where movie, The Exorcist, was shot was in Georgetown University. When the movie debuted in 1973, students made a tradition of having that film shown every Halloween on campus. After the movie, students would go to the campus cemetery and start howling at the moon. These howls can be heard wherever you are in the campus.
Rub The Toe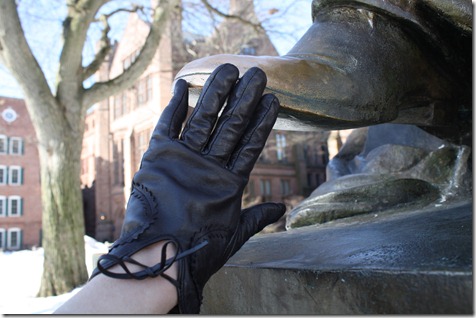 Source: Healthy Tipping Point
For prospective students of Yale University, tour guides would encourage them to rub the to a of the statue of Theodore Dwight Woolsey in hopes that they would get lucky to get in. Another famous tradition is to have undergraduates pee on the same toe before they graduate. Ew!
The Shoe Tree
Source: Mental Floss
There's a large tree outside the library at Murray State University. This tree is covered with mismatched shoe all over. Couples who would nail their shoes on it believes that they will have a happy marriage. For those alumni who bring their children with them, they would nail their babies' shoes to the tree for good luck.
The Orgo Night
Source: Her Campus
Organic Chemistry students from Columbia University would normally study their asses off in the library on the eve of their finals. However, an entertaining distraction often heads their way when the school's marching band would head to the library and entertain them with jokes, music and their fight song.
The Dooley Day
Source: Emory History
A skeleton from the biology department of Emory University is named James W. Dooley, which students call the Lord of Misrule. He is also known as the school spirit. And on an unspecified day, this skeleton "walks" into different classrooms together with its guards and dismisses class for the entire university. Yep, it's more powerful than the university's president in this area.
The Homer Statue
Source: University of Virginia
For the daring students of University of Virginia, they would streak and run through the steps of the rotunda, then across their famous 740 foot lawn and kiss the statue Homer. After doing so, they would run back to the rotunda.
How about your school? Do you know any crazy traditions that you want to share? Leave your comment below! 
Article Source: