Are you looking for the best scientific calculator apps? Then read on!
If there's one thing that every engineering student needs to have with them almost every time, it's their scientific calculator. We use it when we're in class, when we're reviewing, or when we have exams. It's basically more important than pen and paper. Why? You can always borrow a pen and ask for paper, but it's difficult to borrow a calculator—especially when everyone else needs it too. But what if you were in an emergency, let's say you're studying for an exam at a café but you forgot your scientific calculator at home, but you need a scientific calculator badly?
Thankfully, we have our smartphones! You can now download different mathematical apps that can complement different STEM subjects, this includes scientific calculators. If you have a hard time choosing which one is best for you, we've prepared a list of top 10 scientific calculator apps that you may want to keep in your phone.
Algeo Graphing Calculator
Scientific Calculator Apps (Source: Android Authority)
This is one of the most basic calculator apps for solid and academic use. Its interface is simple, and is easy to use. It has some functions that can be used for trigonometry and algebra class. This app is good for simple applications.
Andie Graph
Scientific Calculator Apps (Source: Techhacks)
Andie Graph is a TI-series emulator that enables you to run TI-series ROMS. So you can have an actual TI calculator right in your smartphone! You'll be needing a TI ROM, which are available online. Unfortunately, there are schools who prohibit using these, so don't just throw away your calculator. You can use these for reviewing purposes when you've forgotten your calculator or when you're studying in a café and don't want to bring out your calculator in public.
Calcu: The Ultimate Calculator
Scientific Calculator Apps (Source: Get Serial Key)
This stylish calculator has the basic functions, plus some extras. It can be used for light trigonometry, calculus as well as physics but if you're going to do anything heavier, you may need to get a more specialized calculator. This calculator app also has 12 themes and a customizable keypad.
Calculator++
Scientific Calculator Apps (Source: Toms Guide)
Calculator ++ is a scientific and graphing calculator with many unique features. Other than the basic functions, it has a copy and paste button, a widget and more.
Calculator (CyanogenMod)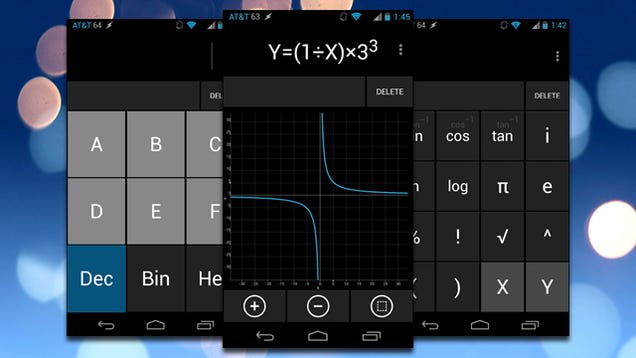 Scientific Calculator Apps (Source: Lifehacker)
Calculator (CyanogenMod) is the calculator app that is inside CyanogenMod. It has basic graphing functionality and some advanced math functions that you may need.
Fraction Calculator
Scientific Calculator Apps (Source: Spin Your Fire)
This calculator is designed for those who have a difficult time with fractions.
Financial Calculators
Scientific Calculator Apps (Source: Mashtips)
This calculator is great for those having business engineering, engineering economy, or engineering management classes. It has features like credit card payoff calculator, APR calculator, loan calculator, currency converter, stocks and bonds calculators, and a lot more.
Graphing Calculator MathlabPRO
Scientific Calculator Apps (Source: IPcracks)
This scientific and graphic calculator has trigonometry functions, inverse functions, scientific and engineering notation, derivatives, and more.
Handyman Calculator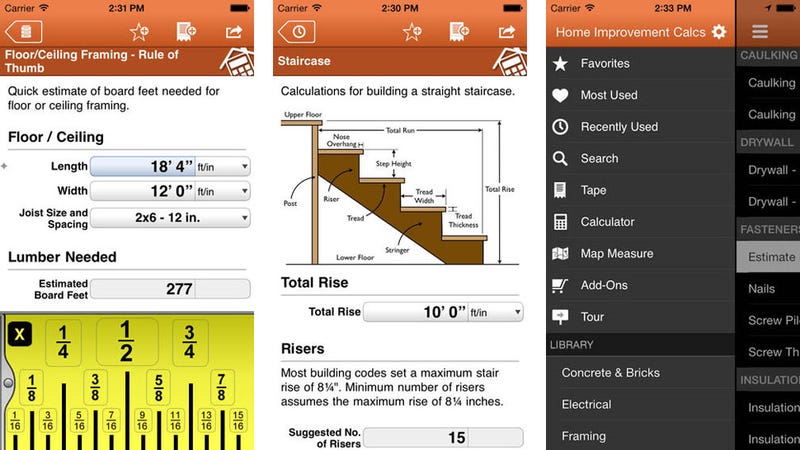 Scientific Calculator Apps (Source: Gizmodo)
This calculator may be useful for drafting students, civil engineering, electrical engineering and architecture students. It has functions that can help you compute square and cubic footage, woodworking, electrical calculations, asphalt volume, concrete, brick, mortar, and sand, and more.
MyScript Calculator
Scientific Calculator Apps (Source: YouTube, MyScript)
This calculator doesn't have buttons like the others. This calculator allows you to write out the equations you need solved and it will solve it for you